Social responsibility
Lehmann&Voss&Co. is a successful, international company. We are grateful and therefore feel deeply connected to society, people and our city, Hamburg.

We have been moving products across continents for over 125 years. Therefore, we also want to give something back to the environment, especially the oceans.

We are therefore committed to three areas:
Social Affairs and Health
Culture in Hamburg
Environment al Protection and Nature
And we like to do that!
Social Affairs and Health
The "Midnight bus"
The Diakonisches Werk Hamburg operates the "Midnight bus," a project in which volunteers look after Hamburg's homeless population. They take hot drinks, food, blankets and often a little bit of human warmth to the people living on the streets. The project is financed 100% from donations; LuV is one of the sponsors. Some of our employees also man the bus and help with this work.
Giving the homeless shelter and work
Hamburg's largest employment project for the homeless aims to give those without a roof over their heads a means to help themselves and thus offer them fresh opportunities and prospects for the future. Lehmann&Voss&Co. provides financial support for this project every year at Christmas.
Aid for terminally ill children and their families
According to estimates, there are currently up to 50,000 children of all ages and young adults living in Germany who suffer from illness or disabilities that will shorten their lives to such an extent that they will die while still young. In May 2003, in an effort to provide these young people and their families with the greatest possible assistance on their difficult journey, the Sternenbrücke children's hospice opened as a pilot project in Hamburg. Lehmann&Voss&Co. has been providing financial support for the children's hospice at Christmas since 2015.
Other organizations from the social & health sector that we financially support:
Förderverein Kinderkrebszentrum, Hamburg (Support association of the Children's Cancer Center, Hamburg)
Deutsche Welthungerhilfe e.V.
DLRG, Deutsche Lebens-Rettungs-Gesellschaft e.V.
Blindenwerkstätte (Workshop for the blind)
Culture
We have felt connected to the Hamburger Kunsthalle for generations. That is why we continue to support it through the
Foundation of the Hamburg Kunsthalle
Environmental protection and Nature
Sustainability is close to our hearts as a chemical company. We believe that biodiversity, the environment and nature conservation are important components of this. Due to our international activities, both in procurement and sales, we believe that we should give something back to the environment, especially to the oceans. Therefore, we support the following foundations:
Aurelia Foundation - Long Live the Bee!
German Marine Foundation!
Further commitment - also in retrospect
We also give our employees space and opportunity to support local organizations they know. We welcome suggestions for this.
Protection of historical buildings and monuments in Mecklenburg-Western Pomerania
To mark the 100th anniversary of LuV in 1994 the company's owners decided to make a major donation towards the restoration of a Gothic church in the village Woserin in Mecklenburg-Western Pomerania. Every year since they have given financial support to help preserve this church. The reason: Company founder Helmuth Voss came from Schwerin.
Partnerships with Hamburg schools
Lehmann&Voss&Co. maintains close partnerships with Hamburg schools to:
support students in choosing a career
encourage sustained positive interest among possible prospective candidates (for training, apprenticeships, dissertations, employment)
to promote active communication with the public as a responsible chemical company as part of the corporate Responsible Care Initiative (RC)
The partnership, established in 2010 with the district school in Poppenbüttel, aims at expanding students' knowledge of plastics from a practical perspective.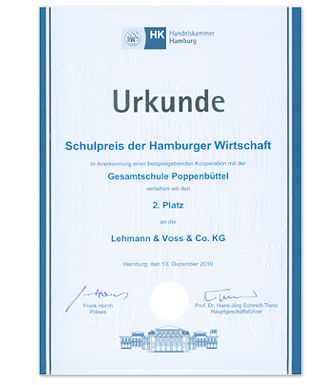 The Lehmann&Voss&Co. factory in the Wandsbek district of Hamburg processes a great many plastics/polymers and additives (giving it a great store of practical experience) and regularly gives middle-school students the opportunity to learn on-site about plastics processing, hazardous materials and safety issues through "Nothing doing without plastics" classroom project. The project earned second place for Lehmann&Voss&Co. in a competition organized by the Hamburg Chamber of Commerce at the end of 2010.
The partnership was extended in 2012 to encompass the opportunity for upper-school students to perform specialist work (in plastics and plastics processing) as part of preparations for their final university qualification exams.